Blog Post:
Poverty and Pity
---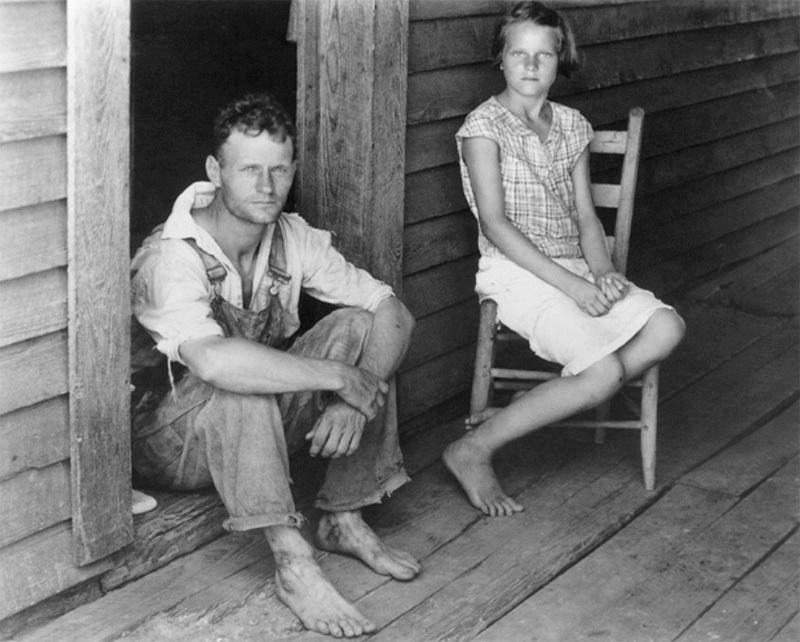 Photo by Walker Evans
In the summer of 1936, a newspaper in New York sent two men to Alabama. Walker Evans was a photographer, and James Agee was a writer. Their assignment was to investigate, document, and then report on the lives of poor sharecroppers barely surviving on the crops they grew in the clay of Alabama. The result of their report eventually became a book called Let Us Now Praise Famous Men.
In the introduction to the copy of that book I own, following the stunning collection of Evans' photographs, Agee writes:
"…this is a book about 'sharecroppers,' and is written for all those who have a soft place in their hearts for the laughter and tears inherent in poverty viewed at a distance, especially for those who can afford the retail price; in the hope that the reader will be edified, and may feel kindly disposed toward any well-thought-out liberal efforts to rectify the unpleasant situation down South, and will somehow more guiltily appreciate the next good meal he eats…" (Agee & Evans, Let Us Now Praise Famous Men, Houghton Mifflin Co., Boston, 1960, p. 14)
In a sort of tongue-in-cheek way, Agee says he hopes the people with enough money to buy the book will be stirred to see something done about the poverty he records in rural Alabama, and that they will also feel a bit of a sting as they enjoy the good things they have that others do not.
In Matthew 26:11, Jesus said, "For ye have the poor always with you…" That was not a dismissive comment on the part of Him who loved the poor and needy, both of the economic and the spiritual kind. It was, however, a telling statement. Poverty cannot be eradicated. The factors that contribute to it are many, and in many ways they are symptoms of the fallen world in which we as fallen people live.
And yet, we as the people of Christ in this world do have an obligation to minister to the poor. This ministry always coincides with a gospel ministry. We must not trade social concerns for spiritual ones, but we also must not ignore social concerns in pursuit of purely spiritual ones.
As American believers, the poverty we see around us in our communities (which is actually relative wealth compared to rest of the world), is something we should see and recognize. And we should see it, not simply in hopes that someone will do something about it, or that it will make us more grateful when we open our refrigerators full of groceries. We should see it and ask what can be done in the name of Jesus to minister to the people in poverty, not just poverty as an abstract problem.
Personally, I am asking the Lord to help me to see individuals within my reach and sphere of life whom I may be able to help both materially and spiritually. I am asking the Lord to open my hands to give when the opportunity to do so is presented to me, and to give with an eye toward establishing a relationship in which I can also give the gospel.
Pity for poverty is a right emotion, but pity won't do anything to make poverty go away for a single person living in it (James 2:15-17, I John 3:17-18). When you have opportunity to do something, do it.
Back in 2001, Merle Haggard recorded an old country song entitled, "More Than My Old Guitar". In the chorus, Hag sings:
"I love my old guitar,
like God loves the poor,
but I love you even more."
The Father in heaven does love and care for the poor, and as His people, we have an obligation to do so as well. Open your hands to give where you can and when you can. We won't eliminate poverty until the Kingdom comes, but we can love and care for the poor on behalf of the King who is coming.
His,
Terry Trivette