Blog Post:
A Sorry Game
---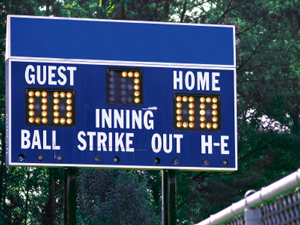 Writing about the lingering bitterness in the South over the Civil War, Walker Percy wrote:
"The South, on the other hand, has always managed to comfort itself by pointing to the hypocrisy of the North - not realizing that it is a sorry game in which the highest score is a tie: 'Look, they're as bad as we are!'"
In Romans 12:3, the Apostle Paul said, "For I say, through the grace given unto me, to every man that is among you, not to think of himself more highly than he ought to think; but to think soberly, according as God hath dealt to every man the measure of faith."
That phrase, "according as God hath dealt to every man the measure of faith," does not speak of God pouring different amounts of faith into the hearts of believers. Rather, it refers to God giving all of us faith according to the same measurement and standard. Our faith is given to us according to the standard of Jesus and the gospel.
If we measure ourselves against Jesus and the truth of the gospel, we are given a proper, sober assessment of ourselves. We are flawed, fallen, imperfect, and unworthy. Yet, we are loved, saved, pardoned, and given grace through Jesus and the work by which He saves us.
Unfortunately, sometimes we prefer to measure ourselves by a different standard - that of the people around us. We look around and find someone we are as good as (or as bad as, depending on the situation), and we justify ourselves by saying, "See, they are no better than me!"
That is, as Percy called it, 'a sorry game', in which the best score is tie of zero to zero. Nobody is winning when the standards of our judgments and assessments of our lives are based on the fallen people around us.
When we look to Jesus, we are given a realistic assessment of our neediness and unworthiness. We are also given an encouraging reminder that we are loved, we are saved, and we are helped by the grace of Him who is worthy, though we are not.
Don't play the sorry game. Don't play games at all. Look unto Jesus and find your worth in Him! He is victorious already, and through Him we have the only victory that matters in eternity.